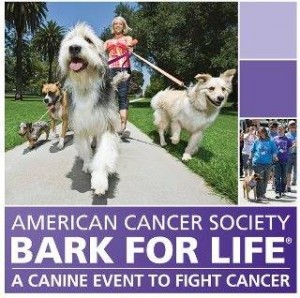 BARK FOR LIFE- 2014
Thank you to everyone who supported our team at Bark For LIfe.  See photos on our facebook page and a video on YouTube.
SOS Animal Rescue is proud to be a supporter of Bark For Life.  Much like Relay for Life, this event raises funds for the American Cancer Society.  The difference:  the walk is for the dogs!
The opening ceremony is at 10:15 am, next is a walk around the pond with your team and four legged friends.  The walk is ~ 1 mile and is followed by fun activities for people and dogs until 2 pm.
If you are interested in joining our walking team, please sign up at the following link:  Join our team    Cost is $10 per dog.
If you are interested in helping in our booth with fundraising or activities, drop us a note at info@sosar.org  indicating what you would like to do.
If you have ideas for fundraisers we'd love to hear from you!   So far we are signed up to: sell water, sell animal related magnets and do something artsy with paw prints.  Have another idea?  Please share.
We are hoping to help make this event a success for American Cancer Society, so please let us know how you can help and/or join our team.
One of our
fundraisers at Bark For Life. For $5 we will supply the materials, you supply the paws and create a great keepsake.   Hope to see you there.